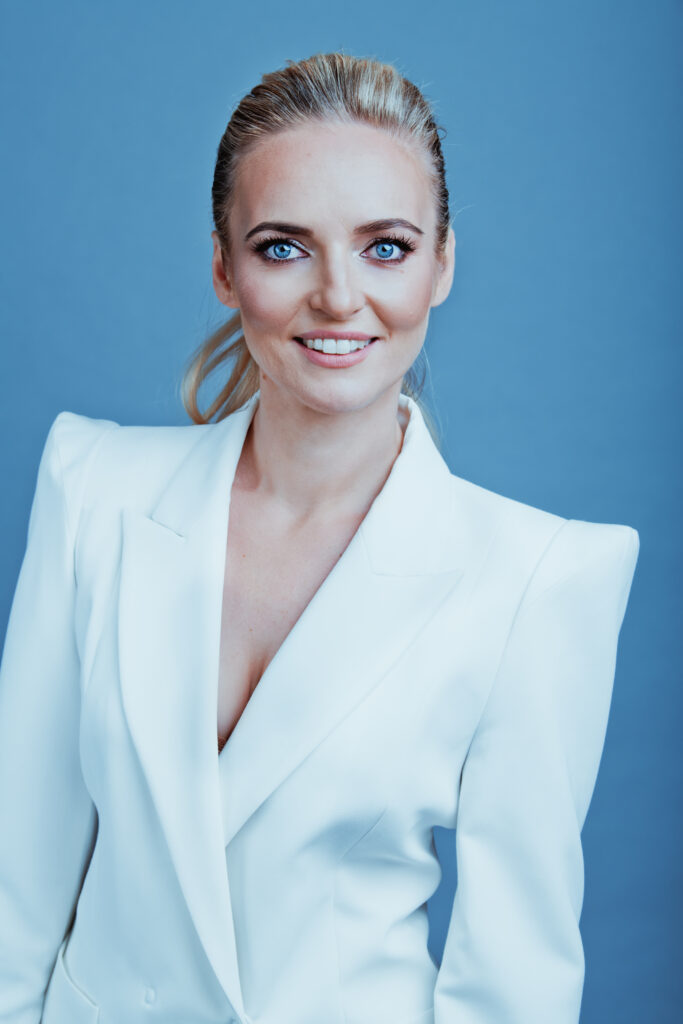 Born in Polish capital Warsaw, at the age of 20 began her studies at the Chopin University of Music in Warsaw under the guidance of the outstanding Polish soprano, Prof. Izabela Kłosińska. While she was still a student, she performed on the stage of the Polish National Opera in Warsaw, where she played the role of Helena in Benjamin Britten's A Midsummer Night's Dream.
After graduating from the University, she improved her vocal skills as part of the Young Talent Training Program of the Opera Academy at the Polish National Opera, before joining the Queen Elisabeth Music Chapel opera studio at the Théâtre de la Monnaie in Brussels. 
In Poland, she has been a regular performer at the Polish National Opera since 2012, where she made her debut with the roles of Tebaldo in G. Verdi's opera Don Carlos (directed by W. Decker) and Kate Pinkerton in G. Puccini's Madame Butterfly (directed by M. Trelinski) from the very beginning, attracting the attention of critics with her glamorous, precise voice. 
Since then, she has appeared on the stages of the National Opera in productions such as The Magic Flute by W.A. Mozart (directed by B. Kosky), Manon Lescaut by G. Puccini (directed by M. Trelinski), La Bohème by G. Puccini (directed by B. Wysocka), Lohengrin by R. Wagner (directed by A. MacDonald) or Eros and Psyche by L. Różycki (directed by B. Wysocka). 
Her wide repertoire includes both classical, romantic and contemporary works. Among her most important creations are the roles of Tatiana in Eugene Onegin by P. Tchaikovsky (Warsaw 2017), Susanna in W. A. Mozart's Le nozze di Figaro (Lisbon, 2013; directed by R. Peryt, Warsaw 2021; directed by R. Skolmowski, Lodz 2022; directed by G. Chrapkiewicz, Warsaw 2022), Sylva Varescu in Die Csárdásfürstin (directed by G. Chrapkiewicz, Poznan 2016; directed by P. Partum, Bytom 2017, directed by M. Znaniecki, Warsaw 2020), Fiordiligi in W. A. Mozart's Così fan tutte. Mozart (dir. J. Stokalska, Warsaw 2019) or Lisette in La Rondine by G. Puccini (directed by B. Berger-Gorski, Bytom 2021).
Aleksandra Orlowska regularly performs at the domestic and international stages, co-working with conductors such as M. J. Blaszczyk, A. Dumay, J. M. Florêncio, P. Fournillier, R. Janiak, M. Kluczynska, R. Kloczko, T. Kozlowski, R. Labahua, P. McCreesh, G. Nowak, M. Nowakowski, C. Montanaro, D. Runtz, Y. Shemet, S. Soltesz, J. Salwarowski, P. Sulkowski, T. Wojciechowski or A. Yurkevych. 
Among the artist's exceptional projects, it is worth mentioning: a concert on the occasion of the 75th anniversary of the founding of The Queen Elisabeth Music Chapel in Brussels, performances with the Verein Opera in Zurich, CD recordings, premieres of contemporary works or ceremonial occasional concerts realized and transmitted by Polish Television (TVP).